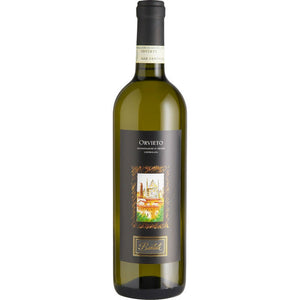 GRAPE VARIETY: 60% Trebbiano Toscano, 20% Canaiolo Bianco, 20% Grechetto.
PRODUCTION TECHNIQUES: The grapes are harvested in the month of September and pressed softly. Vinification takes place at a controlled temperature of 18°C. After racking the wine is kept in stainless steel vats for 2 months to complete its maturation process on fine lees and is then bottled.
COLOUR: Light golden yellow.
BOUQUET: Delicate, pleasant, with scents of fresh fruit.
TASTE: Dry, fresh, slightly bitter, full and velvety.
SERVING SUGGESTIONS: Hors d'oeuvres, roasted white meats and fish, herbed cheeses, dry pastry.
SERVING TEMPERATURE: Serve at 10-12°C.